CHAPEL HILL, N.C. —  North Carolina freshman center Day'Ron Sharpe was as advertised on Wednesday night. The 6-foot-11, 265-pound rookie from Greenville, N.C. came into the game at the 16:11 mark and announced his presence immediately with two rebounds and a blocked shot. With a college-ready body, Sharpe was a formidable presence down low, finishing the game with 13 points, 10 rebounds, two steals, and a block in 22 minutes of action. He was 4-for-8 from the field and 5-for-6 from the free throw line.
For Sharpe, it was a "dream come true" to finally play for North Carolina, albeit not in front of a fan-filled Smith Center in what was a bizarre environment on Wednesday night. Behind Sharpe's double-double, UNC defeated College of Charleston, 79-60.
Sharpe was a physical force as he attacked the glass and grabbed as many offensive rebounds as defensive boards. He showed touch around the basket on offense and a knack for corralling the ball off the glass. He displayed a quick and simple post move for an easy over-shoulder lay-in at the 6:53 mark in the first half. And then at the 7:17 mark in the second period, he snagged an offensive rebound and immediately hit an open Leaky Black in the paint for an easy lay-in, showing his underrated passing acumen.
It is those types of plays that will endear Sharpe to head coach Roy Williams.
"I just go to the boards," Sharpe said matter of factly. "I am a big guy and I like to move. High motor. So I am going to try and help my team win wherever I can."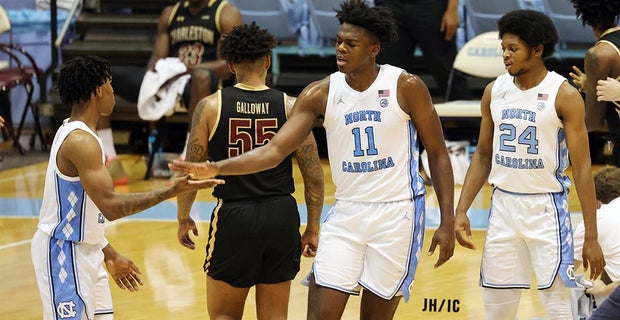 There was plenty of praise and hype in the preseason for Sharpe, who arrived at North Carolina as a McDonald's All-American, 247Sports Composite five-star, and the No. 15 overall prospect in the 2020 class. He impressed his teammates all through practices leading up to the opener.
"Day'Ron had a good, strong game considering the amount of time he got," sophomore center Armando Bacot said. "I thought it was a good start for the (freshman bigs). They have both been great in practice. Day'Ron, he is a beast, as you can see. He is really good on the boards. I thought I was good on the boards last year, but man he might shatter the double-double record with the way he is on the boards."
UNC head coach Roy Williams said postgame that he struggled with whether to start Sharpe over Bacot. Williams intended to start the freshman in the second half, but Sharpe entered the break with two fouls. The Hall of Famer clearly recognizes the talent he has in Sharpe. The rookie was the first man off the bench for UNC and his 22 minutes indicates that he will be pretty much be splitting time with Bacot.
"You know, it was a flip of a coin kind of thing who I was gonna start with the big guys because Day'Ron's had a magnificent preseason," Williams told reporters.
"Magnificent" is a word you rarely — if ever — hear from the UNC head coach about a freshman's first months on campus.
Sharpe wasn't the only promising development in the post. While limited due to COVID protocols, fellow freshman center Walker Kessler made an immediate impact on offense for North Carolina in the second period with his deft touch and incredible length. He finished with six points and four rebounds in just four minutes. Kessler is a change of pace from the more physical and athletic Sharpe, but the Georgia native is more offensively skilled. Either way, when combined with Armando Bacot (who had an efficient 12 points and 8 rebounds), and ACC Preseason Player of the Year Garrison Brooks (who had an atypically quiet offensive night) the much-talked-about UNC frontcourt seems poised to indeed do big things this season.
"You've got to play every game hard," Sharpe said about his first game. "This is not like high school when you start to beat up on teams and they just give up and let you keep beating up on them… you've got to play hard on every possession and not let up on anybody.
"It was what I expected in my first college game," he added. "Playing for Carolina was a dream come true and something I wanted ever since I was young. Even without the fans it was a great experience for me."