The Dolphins started the Tua Tagovailoa era off with a bang, upsetting the Rams 28-17. While Tagovailoa wasn't asked to do much thanks to a dominant day from Miami's defense and finished with only 93 yards, Brian Flores' decision to bench Ryan Fitzpatrick for the rookie certainly didn't backfire.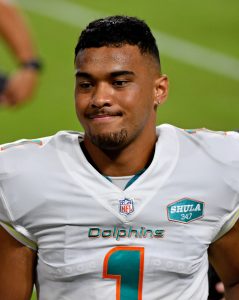 Speaking of that decision, we now have some more details on the Dolphins' thought process. The fact that Miami owns the Texans' first and second-round draft picks next April played a role, sources told Adam Schefter of ESPN.com. With the way Houston is circling the drain at 1-6, those picks figure to be very high. Apparently the Dolphins wanted to make sure they got an extra long look at Tagovailoa just in case they're in position to take a top quarterback in the 2021 draft.
That reporting would seem to indicate that if Tagovailoa flops down the stretch, Miami very easily could draft another signal-caller next year. Unless the Texans finish with the first overall pick they likely won't be able to get Trevor Lawrence, but Ohio State's Justin Fields would be a very real possibility. The Dolphins of course just drafted Tagovailoa with the fifth pick this past year, but the situation certainly wouldn't be unprecedented after the Cardinals just jettisoned Josh Rosen after only one year to draft Kyler Murray.
The Dolphins own those picks from the trade of left tackle Laremy Tunsil. Owners can often get trigger happy with a desire to satisfy fans and play the more exciting option, but despite some speculation to the contrary Dolphins owner Stephen Ross played no role in the decision to move to Tagovailoa, a source told Armando Salguero of The Miami Herald.
This wasn't a spontaneous decision either, as Salguero writes that Flores and general manager Chris Grier had already made the plan for the bye-week switch before the team's win over the Jets in Week 6. Next up for Miami is a date with the Cardinals for Tagovailoa's first career road start.
Photo courtesy of USA Today Sports Images.